Traffic Deaths Caused By Alcohol
(most of these traffic deaths are due to drunk driving)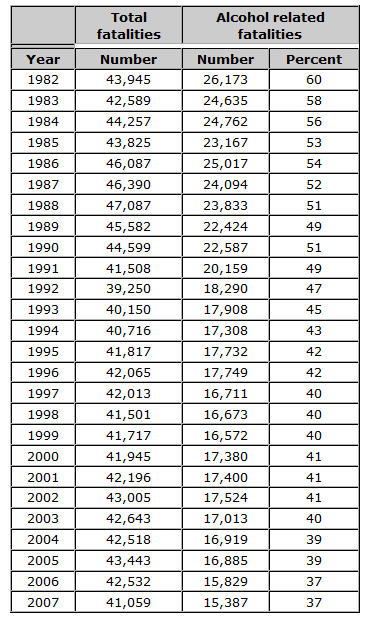 Although alcohol related fatalities from car crashes have declined steadily over past decades, it is still a major problem and cause of premature death amongst America's youth.

The booze cartel are filthy rich, multibillionaire, tycoons who don't have to accept responsibility for the lives they destroy. Although it is true that irresponsible drinkers are mostly to blame for their own actions, the booze companies fully understand that PEOPLE ARE DYING because of their dirty business. Alcohol has always been a dirty business, associated with every house of sin in existence. Anywhere in this world where sin is found, so also is alcohol.

Beer company executives don't have to care personally for the maimed, burned and tormented victims of car crashes and other horrible things that beer does to families. By definition alcohol is a narcotic. The blood of millions of victims are on the hands of the booze cartel.

Alcohol tastes and feels good, but is rotten to the core!