"Blessed be God, even the Father of our Lord Jesus Christ, the
Father of mercies, and the God of all comfort." —2nd Corinthians 1:3

In the Old Testament, Samson committed suicide. Samson went to Heaven. A Christian can commit suicide and still go to Heaven, which Samson proves. When a Christian gets saved, all sins past, present and future are forever washed away. It is a sin to commit suicide, but the only sin that can keep a person from going to Heaven is the sin of rejecting Jesus Christ as your personal Savior. That's the only unpardonable sin!
The Apostle Paul had suffered horrible trials and tribulation while traveling through Asia, so bad in fact that he stated in 2nd Corinthians 1:8, "we despaired even of life." In writing of God's sustaining grace concerning the poet William Cowper, Joseph Larson said . . .
"It was William Cowper on his way in a cab to the Thames River to commit suicide, who, when the driver could not find it for the dense fog, returned to his house and thanking God for the fog, wrote:

God moves in a mysterious way,
His wonders to perform;
He plants His footsteps on the sea,
And rides upon the storm.

Blind unbelief is sure to err,
And scan His works in vain;
God is His own interpreter,
And He will make it plain.

Judge not the Lord by feeble sense,
But trust Him for His grace;
Behind a frowning providence
He hides a smiling face."
Trials can make life seem not worth living. Paul said in 2nd Corinthians 1:9, "But we had the sentence of death in ourselves, that we should not trust in ourselves, but in God which raiseth the dead." In other words, Paul says, "We felt as if we were under a death sentence and all hope was gone. But we suffered so that we would stop trusting ourselves and learn to trust God, Who raises the dead."
God will oftentimes bring a Christian to the point in life where there is no direction to look except up, to where all we have left is our faith. When all you have is God, God is all you need. God brought the Apostle Paul to the point where he even despaired life itself, so that Paul would learn to trust completely in God.
Roman Catholic Heresy On Suicide & Unforgiveness
Kindly, Roman Catholics teach the heresy of mortal sins verses venial sins. According to Catholicism, if a person commits venial (less serious) sins, then they can still go to Heaven if unconfessed; but if a Catholic commits mortal sins like adultery, slander or murder and dies without doing the sacrament of penance, then they go to Hell. I tell you, Roman Catholicism is straight out of the pits of Hell beneath!
First of all, no minister or priest can forgive anyone's sins. They are saturated with sins themselves. Only God can forgive sins (Who Can Forgive Sin? | Part Two - MP3's). I was saddened to read that Priest John Corapi said he absolved his father's sins before his dad died. If that was his dad's hope for forgiveness, he went to Hell in his sins! You'd better trust in the Lord, and not the arm of man's flesh. Jeremiah 17:5, "Thus saith the LORD; Cursed be the man that trusteth in man, and maketh flesh his arm, and whose heart departeth from the LORD."

Second, all sin is as black as coal. God does not differentiate between lesser or greater sins, but He does recognize some sinners as being worse than others, such as when Jesus told Pilate that the Pharisees had the greater sin (John 19:11). Jesus told Pilate that God had given him his position of Roman authority, which meant that Pilate (being a judge) was put in that situation by the wicked Pharisees, which laid the greater fault upon them.

There is no such thing as venial or mortal sins. Even one sin is enough to send a person to Hell for all eternity (James 2:10). Yet, even a mass-murderer can easily be saved by simply receiving Christ's sacrifice on the cross as full payment for his sins, believing (trusting) that Jesus is the Savior Who died in our place on the cross, was buried, and arose from the dead three days later for our justification (1st Corinthians 15:1-4). Salvation is not doing your best, it is having Christ's best put to your account through receiving Him by faith!

Third, if saved, always saved. Salvation is not a possession like a refrigerator that we can have one day and lose the next. Salvation is a new birth, a second, spiritual birth (1st Peter 1:23). Just like the physical birth, the spiritual birth cannot be undone. There's no way to undo the new birth. The false doctrine that eternal life can be lost is a religious concept, not a Biblical concept. If someone says that they "used to be a Christian," it simply means that they once ascribed to the teachings of Christianity, but they've never been born-again. Satan's greatest weapon is to con people to live the Christian life without ever being born-again.

The satanic heresy (known as Lordship Salvation) that says a person must purpose in their heart to stop sinning to be saved is a religious concept, not a Biblical concept. Satan is a beautiful liar! You get saved by realizing that you are a sinner, totally incapable of saving yourself, and by faith you receive Christ's suffering on the cross and the blood that He shed and sprinkled on the mercy seat in Heaven as payment for YOUR SINS. The Gospel teaches that Christ died on the cross for our sins, was buried and resurrected three days later for our justification. If you receive the Gospel as full payment for your sins, you are saved!
Suicide is the Devil's Solution
"For godly sorrow worketh repentance to salvation not to be repented of: but the sorrow of the world worketh death." —2nd Corinthians 7:10
Peter had denied Christ, even cursed His holy name. Later, when Peter heard the cock crow three times, he remembered that Jesus had foretold of these things. Peter wept bitterly and repented. Judas on the other hand had betrayed Jesus for thirty pieces of silver (about $10,000 today). Judas panicked when he fully thought about what he had done. So Judas went and hanged himself.
Satan tried to get Jesus to commit suicide, tempting Christ to jump off a tall building (Matthew 4:5-6). Jesus responded by quoting the Scriptures (Matthew 4:7). If you have thoughts of suicide, it is likely a demonic influence (TV, movies and music today are saturated with subliminal messages and often the lyrics themselves, which lead the listener to commit suicide). One teen who commit suicide still head the walkman headphones on his head, listening to Ozzy Osbourne's song, SUICIDE! Most people are strong enough emotionally to listen to such evil music and escape it's power, but emotionally weak and mentally unstable people are vulnerable. Everyone is emotionally and mentally weakened at some point in their life. Please watch the following shocking documentary exposing the evil's of Rock 'N' Roll music...
Instead of repenting like Peter, Judas went and hung himself. Peter and Judas demonstrate the correct and wrong way to deal with overwhelming pain, whether it be physical or emotional. Peter did the right thing by turning to God; but Judas killed himself to escape the emotional pain, just to end up in Hell. Jesus openly stated in John 6:70 that Judas was a Devil.
Peter had godly sorrow, but Judas had the sorrow of the world. The sorrow of the world eats at a person like cancer until they lose their health, go nuts, blow their brains out, or hurt someone else. Godly sorrow is simply being sorry to God for what we have done and asking Jesus to forgive us. There's always a second chance with God. I don't care how much you've messed up, God will work with you. The hardest person in the world to forgive is yourself.
"Come now, and let us reason together, saith the LORD: though your sins be as scarlet, they shall be as white as snow; though they be red like crimson, they shall be as wool." —Isaiah 1:18
If you have reconciled your wrongs with man, and have made your heart right with God, then you need to forgive yourself. You cannot be right with God and wrong with man. If you have defrauded or hurt someone, then make it right. In some cases there's nothing you can do. A woman who aborted her baby years ago cannot bring the child back. All she can do is beg for God's forgiveness (and the father if he didn't want the child aborted). But if you've done all you can do to right your wrongs, then you should have peace in your soul. God will forgive anyone!
There are many situations in life which can cause a person to feel overwhelmed to the point of wanting to commit suicide (the death of a loved one, being arrested and imprisoned, a spouse leaving, getting caught doing wrong, peer pressure, teenage pressures, etc.). In Judas' case it was guilt, his evil was exposed and he was overwhelmed with guilt. Judas could have been forgiven, but he instead foolishly hung himself. There is always a right way and a wrong way to deal with anything.
Just lay everything out on the table before God in prayer. He promises to forgive you and to help you get your life together. You don't need to feel overwhelmed with sorrow and fear, just beg God to forgive you and then you do everything in your power to make things right. If there's nothing you can do about it or it is too late, then you must put the situation into God's hands and free your mind of something you cannot change.
29 Year Old Woman With Brain Tumor Commits Doctor Assisted Suicide | Here's Why You Never Should
Satan Wants to Discourage You
Forget the past, it is gone forever. Don't worry about the future, it may not be yours. Rather, lay up for yourself treasures in Heaven by living for Jesus and the gospel's sake. You don't have to kill yourself. You can have "a life" in Jesus (John 10:9-10). I suffer in physical pain everyday from problems in my neck. Not a day has passed since 2004 that I don't have aching constant toothache-like pain in my neck.
Killing yourself is not the best way to make the pain go away. Life is full of problems, emotions, miseries and frustrations. My best friend killed himself at age 22. It's been nearly 20 years since. I often wonder what kind of family he would have had. I think about all the good things which life has to offer that he forfeited by shooting himself. He had been drinking at the time and found his father's shotgun... not a good combination when your depressed to begin with. Just one more reason why I hate alcohol with all my heart. Alcohol kills! Alcohol is public enemy # 1 (download MP3).
Life can be better friend, but the first step is to never give up on yourself! Trust me, time does heal ALL wounds. I know from experience.
Country singer legend, Faron Young, killed himself with a gun at age 65. So sad. He had serious health problems and was suffering in much pain. I wonder if he died in the Lord with his sins forgiven (or went to Hell in his sins). I surely hope he was a born-again Christian.
Comedian Robin Williams (whom I adored) commit suicide at age 64 in 2014. I can't help but wonder if he had just waited one more hour if he might have changed his mind. Many people are saying this is was depression and not suicide that killed Robin Williams. Truthfully, it was both. Depression is a horrible thing to live with. I have battled often with depression because of my health afflictions, which compounded life and made things worse than death at times. I have been through so much inexplicable emotional pain and mental trauma in my life, as a child and especially as an adult.
I got the following quote from the film, Rocky, in which Sylvester Stallone says the following to his son (which is also his son in real life, who tragically died from a drug overdose in real life). I added the Scripture at the end. I think about this quote often when I get discouraged...
The world ain't all sunshine and rainbows. It's a very mean and nasty place and I don't care how tough you are, it will beat you to your knees and keep you there permanently if you let it. You, me, nor anybody else is going to hit as hard as life, but it ain't about how hard you hit; it's about how hard you can get hit and keep moving forward, how much you can take and keep moving forward. John 16:33, "These things I have spoken unto you, that in me ye might have peace. In the world ye shall have tribulation: but be of good cheer; I have overcome the world."
If God Can Use My Train-wrecked Life, He Can Use You Too
There were times in my life when I tried to sleep 12 or more hours a day, using my prescription drugs as sedatives, to escape the reality of my miserable circumstances. I was surviving, not living. There are things in life worse than death. Loneliness can certainly seem like one of them. Overwhelming fear, loneliness and heartache often caused me to have panic attacks, feeling like the world was caving-in around me. I know what it's like to wake up from a horrible nightmare, only to realize that my life is even more horrifying. Still, I kept my hand at the plow through it all for the Lord, working diligently on my online ministry websites. It was staying busy for God that got me through it all, helping others instead of thinking about my own afflictions, sadness and problems.
If you are suffering in misery, wishing that you didn't have to face another day of this painful existence called life, then lose yourself in a ministry for God. Everyone can do something for God. I didn't know anything about making a website when I started my ministry back in 2002, but I was determined to learn, to do whatever it took to make it happen, and little-by-little, through many errors and mistakes, I succeeded with the Lord's help. I wouldn't even dare to think for one second that I did any of this of my own strength and desire. Philippians 2:13, "For it is God which worketh in you both to will and to do of his good pleasure." I remember as a young man in my early twenties praying in much tears in my car at midnight and into the wee hours of the morning after work.
I remember many nights in my car, in the church parking lot after church or after preacher's class on Saturday night, crying my eyes out and pleading with God from my heart to use me, use me for your glory, use my life to make a difference for eternity. I remember driving to downtown Chicago, where the old Skidrow missions used to be, praying and pleading for God to use my life to serve Him. Little did I know that one day God would give me an international influence, a voice in the wilderness of cyberspace for God.
Hurting People Hurt People & Sometimes Them Self
Ernest Hemingway also killed himself, a legendary writer and author. It is sad to hear of someone committing suicide.
Sadly, many teenagers commit suicide. The teen years are extremely difficult on young people. They're caught in limbo between childhood and adulthood. It can be very painful as a teenage, I know because I was one once. I spent quite a few tearful nights thinking of an Italian girl that didn't want anything to do with me. She married someone else. It hurts to be in love with someone who doesn't love you in return. It was very painful.
If you're at the end of your rope, then get a longer rope. If you've received the straw that breaks the camel's back, then get a stronger camel. Don't quit! Don't give up! You can make it! Suicide is a sin! No one should ever even talk about something so foolish as killing one's self. I hope these few words have encouraged you. I'll tell you, there have been times in my life where I just didn't want to live anymore. I just didn't want to deal with life anymore. I didn't want to face another day. I hated life and everything about it. People can be so cruel. One man wrote to me and said: People equal pain. He had been hurt by many people in his life.
We are Living in Perilous Times
Sadly, life today in America is about people hurting people. It's neighbor rising up against neighbor, calling the police and CPS on each other. It's tragic! It shouldn't be that way. As a Christian I refuse to live that way. I want to exemplify Jesus Christ in my life (Philippians 2:5).
The jerko newsmedia has caused much of this feeding-frenzy by demonizing every American for their individual crimes; while totally ignoring the massive government crimes, including the theft of trillions-of-dollars, and the exploitation of our children as paid mercenaries in the military. Our children die, not theirs!
At times in my life I just wanted to get as far away from everything as possible. I know what it's like to take prescription meds and try to sleep 15-hours a day to escape the pain of life. I know what it's like to not want to wake up ever again. I know the feeling of wanting to go into a coma and wake up a year later. This is no way to live. In fact, it's not living at all; but rather, enduring and surviving. My faith in God is the only thing that sustained my life during those times.
I know what it's like to undergo 2 major surgeries with not even one friend nor family member by my side, nor waiting at home. I know the pain of loneliness. In April of 2010 I underwent a 2nd ACDF (Anterior Cervical Discectomy and Fusion) surgery on my neck, a revision of the first surgery that wasn't done properly. As I was coming out of anesthesia, I felt excruciating toothache-like pain in my neck and the hard neck-brace was very tight around my neck. I felt overwhelmed with emotion and was alone in a side recovery room. When a nurse walked into the room I said, "I feel very lonely." She replied, "Well I've never heard that one before," and she carelessly walked out of the room. Tears ran down the sides of my head as I cried out to God in loneliness. I wished I had died in surgery. I was all alone, but faith in God saw me through.
Listen to the precious words of Pastor Lee Roberson...
"Sorrow will last for the night, but morning cometh when you will meet both your loved ones and the Lord Jesus. Are you traveling on the detour of loneliness? Sometimes we do find ourselves completely left alone. We do not have close friends and our loved ones are far away from us . . . Yes, you may feel yourself one of the earth's loneliest creatures, but if you are a child of God, then you have the promise of the presence of Jesus. This is His promise to obedient followers: '. . . lo, I am with you alway, even unto the end of the world. Amen. ' "

SOURCE: Pastor Lee Roberson (1909-2007), from the sermon titled, THE DETOURS OF LIFE.
God saw me through and raised me up, just as only God can raise the dead. The Apostle Paul felt the same way in 2nd Corinthians 1:9, "But we had the sentence of death in ourselves, that we should not trust in ourselves, but in God which raiseth the dead."
Many people have never truly suffered in life and cannot relate to what I am saying, but I've been there. I know what it's like to suffer physically and emotionally, to lose everything near and dear to me in life, and to wish I were dead. I know what it feels like when every minute seems like an hour, and every day seems like a month, and a month an eternity. But you know what, life goes on until the good Lord decides it is our appointed time to die (Hebrews 9:27). Let God control your life by praying about everything (Philippians 4:6) and searching the Scriptures for spiritual food and encouragement to keep going (John 5:39).
"Rejoice in your darkest hour. The world may think you're crazy, foolish; but keep trusting God, keep building your faith on the Word of God. Rest in that Book. Do what He says do. He will help you, lead you in the same way He led Moses, Elijah, Jeremiah, David, Peter, James and John and the Apostle Paul."

SOURCE: Pastor Lee Roberson (1909-2007), from the sermon titled, KEEP ON REJOICING.
In Psalm 88:15, David said he wished he were dead from his youth. Psalm 88:15, "I am afflicted and ready to die from my youth up: while I suffer thy terrors I am distracted." David said he had sorrow in his heart daily that wouldn't go away... Psalm 13:2, "How long shall I take counsel in my soul, having sorrow in my heart daily? how long shall mine enemy be exalted over me?" Suffering is nothing new to the human race. Oh, listen friend, whoever you may be, God loves you.
I hope you'll listen to the following sermon by Pastor Jeff Owens, called MY TEARS IN HIS BOTTLE (download MP3). God sees your every tear, and he is collecting them in Heaven. That is exactly what Psalm 56:8 teaches, "Thou tellest my wanderings: put thou my tears into thy bottle: are they not in thy book?" That is God's way of saying to us, "I care and see your every tear that you cry, whether from physical pain or emotional." 1st Peter 5:7 tells us that God cares, and that we should cast our cares, worries and frustrations upon Him. We should pray about everything, to let God know that we need Him and cannot make it alone (Philippians 4:6; Proverb 3:5-7).
"The world's greatest ignorance is on this subject: How to get home to God, how to be saved and be sure you are saved. God has tried to make it simple in His Word, but because of man's sin and depravity, he refuses to receive the simple way. Therefore, we have a multitude of confusing man-made ways of salvation. But, still, there is only 'one way home' . . . The Devil wants you to be confused and works to that end. Don't forget that the Devil is the author of confusion and doubt. He is the 'father of lies.' The Devil wants you to believe a lie and be dammed. False ways are advertised and publicized more than the true way . . . Receive Jesus now as your Saviour! He is the way home."

SOURCE: Pastor Lee Roberson (1909-2007), from the sermon titled, ONE WAY HOME.
Perhaps you have never received Jesus Christ and would like to become a born-again believer. If you like to be saved now, Click Here. John 1:12, "But as many as received him, to them gave he power to become the sons of God, even to them that believe on his name."
The Gospel (Jesus died on the cross for our sins, was buried & resurrected)
(Salvation is by God's Grace Through Faith in Christ's Payment on The Cross for Our Sins Plus Nothing! Salvation is not doing your best, it is having Christ's best put to your account through receiving Him by faith!)
---
Ernest Hemingway, Father, Sister, Brother & Granddaughter All Commit Suicide

Disabled Teen Tortured 31 Times By Electric Shock "Treatment"
(was the Bible and prayer really all that bad in America's classrooms?)
---
"Insanity because we're in sin!"
—Brother Lester Roloff (1914-1982), from the sermon "Steps In The Degeneration Of Our Nation."
SIN...
The Root Problem Of Society

Please listen to one of these life-changing MP3 sermons by Pastor Jack Hyles (1926-2001)...

OVER 1,500 Spirit-Filled MP3 SERMONS!!!
---
Walter J. Freeman ~ The Lobotomist Documentary
Give God your HEART and He'll comb the kinks out of your HEAD.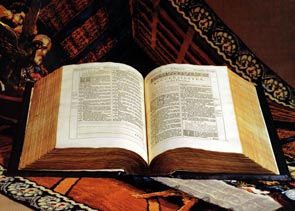 When all else fails, read the instructions!
"Beware lest any man spoil you through philosophy and vain deceit, after the tradition
of men, after the rudiments of the world, and not after Christ." —Colossians 2:8