It's Official, say goodbye to your Freedom!
| NDAA | TPP |
H.R. 254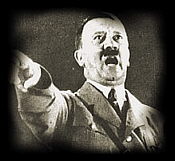 Basic human rights secured to us by the Bill of Rights are no longer considered necessary by your government. While the Patriot act completely shreds the Bill of Rights, HR 6166 goes even further. HR 6166 grants the President unlimited, unchecked Dictatorial power. It gives the President and the Secretary of Defense power to accuse, detain, convict and punish whomever they personally declare "the enemy". No more public trials. No more writ of Habeas Corpus. Military tribunals (as small as one man) are to be appointed by the President and/or Secretary of Defense, and granted the power to decide the fate of the accused. This literally allows cases of one man judge, jury and executioner.
Please compare and contrast these new U.S. laws to Adolf Hitler's Enabling Act, passed in 1933. You will be alarmed by the similarities. Remember, HISTORY ALWAYS REPEATS ITSELF!
U.S. Patriot Act compared to the Hitler's Enabling Act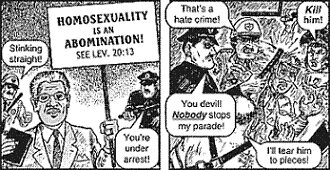 Now That Same-Sex PERversion is legal in all 50 states, the government is forcing transgendered curriculum upon all children! (this filth is STRAIGHT OUT OF HELL!!!)
Shock study: 12% of kids sexually abused in government custody
Bureau of Justice Statistics: Sexual Victimization in Juvenile Facilities Reported by Youth

Senator Nancy Schafer Was Murdered For Exposing CPS Child Kidnapping, Corruption & Abuse!
Eagle Forum's Senator Nancy Schafer Murdered For Exposing CPS Pedophile Network For Elite
Banned From Television, Top Leaders And Wealthy Sexually Abuse Children Through System
Franklin Boys Home Cover-up! (The Child sex ring that reached Bush/Reagan Whitehouse!!!)
Alarming CPS Abuse! (CPS foster workers are FIVE TIMES more likely to abuse children than at home where they belong. Beware of the nationwide CPS pedophile network!!! According to Senator Schafer, CPS targets poor families, knowing that they cannot afford an attorney to fight the system and protect their family. Bastards! The administrative judges are all a part of the fraud and evil! Mrs. Schafer discovered that CPS case workers and social workers are often guilty of fraud, by withholding, fabricating and destroying evidence, seeking to terminate parental rights unnecessarily. It's a lucrative business!!! As the business grows, so also does child snatching to feed local and state budgets!!! The bureaucracy is huge! Look at who's getting paid—state employees, guardian ad litems, attorneys, court investigators, psychologists, therapists, counselors, court personal and judges, foster parents, adoptive parents, et cetera—all looking at the children in custody to provide job security!!! You've got to hear Nancy Schafer. This child abuse originates straight from The White House! CPS workers are paid thousands of dollars in bonuses for kidnapping YOUR CHILDREN!!!)
CPS Steals Children for Profit — Your Tax Dollars in Action! (converting children into cash!!!)
"No man in the wrong can stand up against a fellow that's in the right and keeps-on-a-comin'!" —motto of The Texas Rangers