Ok, here goes... you need the following ingredients (it doesn't have to be exact).
INGREDIENTS
1 Medium-large sized head of regular cabbage, shredded (Chinese Napa cabbage is good too, very similar in taste)
8 ounce can of drained bamboo shoots, drained and diced
2 whole medium-sized yellow onion (diced fine) - white onion if fine if you don't have yellow
3 big carrots (or about one-third bag of small carrots), drained and iced
2 teaspoons Chinese rice wine (that's the red bottle in the picture above - you can also use sherry instead)
2 teaspoons salt (just regular table salt)
1 teaspoon sugar (I use brown sugar, but white sugar is ok too)
2 teaspoons of regular light soy sauce (I use Kikkoman)
2 teaspoons of oyster sauce
1/3 pound of regular ground pork (optional, I used it in mine because I had it)
4-5 stalks of celery, diced
6 cloves garlic, diced
1/2 teaspoon of 'Chinese Five Spice' (a little bit goes a long way and it tastes great in egg rolls)
1/2 teaspoon of fresh ground black pepper
2 cups of Chinese BBQ Roast Pork (I'll tell you again how to make it below. You may just eat the roast it's so good!)
1 cup of peeled, deveined, cooked shrimp (I buy it that way), diced
1 bundle of green onions, diced (there's about 12 stalks in a bundle)
2 cups fresh bean sprouts, diced
1 teaspoon of Accent (MSG). It doesn't give me headaches. I like the flavor. Don't use if it bothers you.
2 cups peanut oil for deep frying. I actually cook three egg rolls at a time in a small pot on the stove because I don't have a deep fryer at this time. I just cook one side at a time. A deep-fryer is best set to 375 degrees if you have one. By using a pot instead of a big frying pan, I use much less oil. Just add a little oil as you cook, when you see it start to go low from absorption from the egg rolls. Although I hold each egg roll and drain excess oil, some is still retained in the roll, which gives it a great flavor. I LOVE cold egg rolls ten-times better than warm egg rolls. Try it and you'll be addicted.
2 packages EGG ROLL WRAPS.
2-3 eggs for beating and rubbing on egg roll wrappers while rolling. Don't be afraid to use a generous amount of egg.
IMPORTANT: If you can't find egg roll wraps, don't make the meal because it won't taste right. DON'T buy lumpia wrappers or wraps made of wheat, because it takes forever to cook the wrappers and it gives an unwanted chewy texture to the egg roll skin. The wrappers MUST be made with egg yokes (and there's other ingredients of course). If it says EGG ROLLS WRAPPERS, it's ok. It must say EGG in the ingredients. I only use the "EGG ROLL WRAPPERS by the NAKA SEIMEN. It also says GOLDEN DRAGON on the package. The company's address on the package is NANKA SEIMEN INC., LOS ANGELES, 90058. Any Chinese (oriental) or Korean store should carry them. Large supermarkets usually carry lumpia wrappers that are terrible. If I can't find EGG ROLL WRAPS, I won't make them. The wrapper is a big part of the flavor and texture.
The above recipe may look intimidating, but once you've made it a few times it's a lot easier. I can go through the store now without a list and pick out everything I need to make egg rolls. I made the mistake once of getting the wrong wrappers and I ended up putting my mix into plastic bags in the refrigerator until I could go get the EGG ROLL WRAPPERS.
Also, it's ok if you can't find all the ingredients, like bamboo shoots. I still make them. The cabbage is a must, but that's easy to get, regular or Chinese. I like using 2 yellow onions, you don't notice them hardly when they're cooked. I have a half-gallon jug of peanut oil that's all in the Chinese language, but it has a picture of peanuts on the label, so I knew it was peanut oil. It's great for making friend rice and deep frying egg rolls.

HELPFUL TIPS
They're simple to make. It's not as big of a project as it seems. As I said, the long list of ingredients seems intimidating, but it's just ingredients. They sure taste good together!!! Make sure to dice everything up as small as possible. You don't want big chunks of food in your egg rolls. You can use a food processor if you want, but I do it the old-fashioned way and cut everything by hand. I actually use a sharp pair of kitchen scissors to cut up my pork and shrimp by hand. Cut your cabbage and put it into a big bowl. I used to rinse my cabbage, but not anymore. If you want, just rinse the outside before cutting.
After you've made egg rolls a few times it goes MUCH faster. This recipe makes about 20-25 egg rolls, depending on how much filling you put in each. I recommend more filling. Don't be afraid to use more. Use a couple beaten eggs around the edges of the egg roll wrapper. The egg roll wrappers dry-out quickly and will crack while rolling. To avoid this:
Keep wrappers frozen until use
Keep wrappers in refrigerator after thawing until use (they thaw very quickly)
Don't allow package (even if sealed) to sit at room temperature for a long time. They will dry and crack quickly.
Once package is opened, place a dampened paper towel over the wrappers to keep them from drying-out.
Take three wrappers at a time and cover the others covered with the damp paper towel.
Rub egg around the outside of the egg roll wrappers. Then place filling in the middle and wrap gently.
If wrappers are dry and look like they're going to crack or break open, rub beaten egg around the outside and in dry areas to moisten. Once you place the egg roll into the oil, it will become sturdy quickly.
DON'T OVERCOOK THE FILLING! I made the mistake of cooking the filling until the water in the wok dried up, but my cabbage had withered into nothing. I over-cooked everything. It still tasted ok, but I much prefer to remove my cabbage while it still looks like cabbage. This is why I don't rinse my cabbage anymore after shredding it. I rinse once before cutting it. DON'T cook your mix too much! I've learned it's best to cook everything until I'm content with it's texture (just until the cabbage has withered about 40-50%) and then scoop everything into a strainer in a big bowl. There will be water in the bottom of the wok. Scoop the mix into a strainer. Let it sit for a few minutes until all the liquid has dripped into the bowl beneath. This works really great, leaving the egg roll filling nice and dry so your egg roll wrappers won't fall apart while rolling. If your mix is too wet, the moisture will make your egg roll wrappers fall apart.
Also, since there is quite a bit of moisture in the stir-fry (over an inch), I like to add all my spices at the end to present them from draining into the water. I actually cook my ground pork separately so I can drain the grease. I cook the pork with the carrots, which are harder and require longer cooking. Then I drain the grease and add them later to the mix. There's no exact method of doing this recipe. Common sense is what I go by. It makes sense to cook the pork by itself, so you can drain the fat. Anytime you fry hamburger or pork you're going to get a lot of grease in the pan. Sometimes I'll use a whole pound of ground pork.
Each time I make egg rolls I use whatever I have on hand. That's the beauty of making egg rolls, you can add whatever you want. Leftovers are great to add to egg rolls. My rule is simply this: If it tastes good to me I add it. Albeit, I try to follow the basic ingredients which I have listed. I stick to that pretty close. I might use a little extra carrots if I have them, or less onion if I don't have two. Or I might use the whole pound of pork instead of a half-pound, so it won't sit around and waste. I generally don't use ground pork, except for Swedish Meatballs (emmm!).
USE A STRAINER TO DRAIN MOST OF THE LIQUID FROM THE STIR-FRY. LET IT DRAIN FOR 10-15 MINUTES. This will prevent the egg roll wrappers from falling apart.
So as a simple rule: make sure to drain everything well before even turning on the wok. Preparation is important, because once you turn on the wok you have no time to dice and slice and open cans. Have your diced up vegetables in bowls and ready to go. Have your spices ready to go. KEEP YOUR WRAPPERS IN THE REFRIGERATOR until you need them. I take them out of the freezer and let them thaw in the refrigerator for 2-days (or set them on the table from the freezer for an hour or two. When the package of wraps is no longer stiff, they're thawed enough to use). If you open the package and let them sit on the table, the wrappers will dry out quickly and break apart when you try to roll them. Take the wrappers out at the last minute when you're ready to use them.
I've tried dried mushrooms (you soak them in water for about 30 minutes to soften), which some online recipes call for, but they dominate the flavor and are slimy and terrible in my opinion. I don't use mushrooms, but if you do prefer them, buy them ready made fresh or canned.
Don't cover the wok (no lid) while stir-frying so moisture can evaporate. There will always be some liquid. The liquid in the wok never all evaporates. Although cabbage looks dry, it gives off a lot of water when cooking. I always set my wok to a heat setting of 12, which is hot (14 is the highest). You have to gently stir your food every 60 seconds or so, to prevent burning the food (use a wooden or plastic spatula to prevent damaging your wok's surface). I use a Breville brand wok, model TC 30 (which I bought on Amazon.com). I like it a lot. It uses standard 120 VAC for power. This electric unit works very nicely (and it is large enough to hold all my ingredients). A frying pan wouldn't be big enough to contain all the egg roll filling.
My wok gets VERY hot and will burn food on a setting of "12" if left unattended for over a minute. You want your food to brown a little bit, which is the nice thing about using a wok. I stir my food about every 60 seconds. I usually cook on a setting of between 10-12. I never have used 14. I've had no problems with my wok, which I've had for over a year now. I like it a lot. I don't cook as much as I'd like to, but I get into spurts when I'm feeling better (I have peripheral neuropathy in my arms and legs and constant neck pain/stiffness). The same is true of everything I do because of my health afflictions. I appreciate the prayers of my web visitors. I need them so much. I like sharing nice things with others. I enjoyed making this recipe so much, and eating it; that I made it twice and took pictures each step of the way so you could see how nice these are to make and eat. Give it a try, I think you'll really enjoy them!
I make my egg rolls a little different each time, adding whatever vegetables and meats I have. I don't like chicken, which makes the egg rolls dry. I always use BOTH shrimp and roast BBQ Chinese pork. The BBQ pork is so simple to make (and delicious). Just baste a full-sized pork loin roast in Chinese CHAR SUI SAUCE (found in the 'oriental foods' section of a bigger store) and bake it until the internal temperature reaches 155 degrees (I remove my roast from the oven at 145 degrees because it continues to cook after removed). I cut the roast in half and remove the smaller portion first to avoid over-cooking.
I sear (fry on high heat) all sides of my roast in a frying pan (or wok) before I bake it. Fry it in 2 Tablespoons of extra virgin olive oil. Fry the roast until each side has a nice blackened covering. I NEVER broil the roast afterwards because it raises the internal temp and OVERCOOKS my roast (making it dry). By pan frying and then baking, you can't overcook it. Baste the roast after it's done as well (with pan juices and more Char Sui Sauce from the jar). I use the entire jar of Char Sui Sauce (1/2 before baking and 1/2 after). I slice up the roast, let it cool for an hour, and then I use scissors to cut it into small pieces. Then I rub all the pieces into the sauce in the pan and soak it all up into the pork roast pieces. This stuff is addicting. This way I get all the wonderful flavoring of the Chinese Barbeque sauce. I grab a handful of pork roast and toss it into my friend rice too... emmm!
You can add almost anything to egg rolls. CAUTION: You get into trouble by adding too much spices, too much salt, too much soy sauce (which is salty). As long as you go sparingly and taste your mix as you go, you'll be ok. I've learned not to trust recipes. I've ruined many dinners, especially fried rice, because someone said to add too much salt or soy sauce. Less is better. I don't even add soy sauce to my fried rice anymore. Soy Sauce is the fastest way to ruin a stir-fry or fried rice!

Making Chinese BBQ Pork Roast
Here's how...
1 pork loin roast. I buy mine prepackaged. Most larger super markets carry them. There's no bone, just a delicious pork roast.
1 jar of Char Sui Sauce. It would be found in the Chinese foods section of a larger grocery store. It's Chinese BBQ sauce, very sweet. You'll use almost the entire jar.
1 Tablespoon Chinese rice wine.
Rub Char Sui Sauce all over the roast generously. Put it into a gallon-sized plastic bag and add the rice wine. Marinate the roast in the bag overnight in a refrigerator.
When ready to cook, add a little bit of olive oil into a hot frying pan and brown all sides of the roast.
Then put the roast into a baking (or roast pan) and baste all sides with Char Sui Sauce. Bake for about 15-20 minutes at 375 degree oven. I use a meat thermometer. Stick the thermometer into the thickest part of the roast. It's done when the internal temp reaches 155-160. I remove it at 155 degrees. DON'T broil the roast or it will overcook and become dry inside.
When done, baste all sides again with Char Sui Sauce. Cut the roast into thin slices and save all the juices in the pan. The juices are the most important part (to soak the meat in for flavor and moisture). Trust me, you love the juices. You may eat the roast all up as is. It's awesome!
I dice up half of my roast for the egg roll filling. I eat the other half as is. I put the bowl into a gallon-sized freezer bag and store it overnight in the refrigerator. I usually cook my roast one day and make egg rolls the next day. I use about one cup of diced up BBQ pork in my egg roll batch. It is the key ingredient to restaurant take-out style Chinese egg rolls. You must have the Chinese BBQ pork.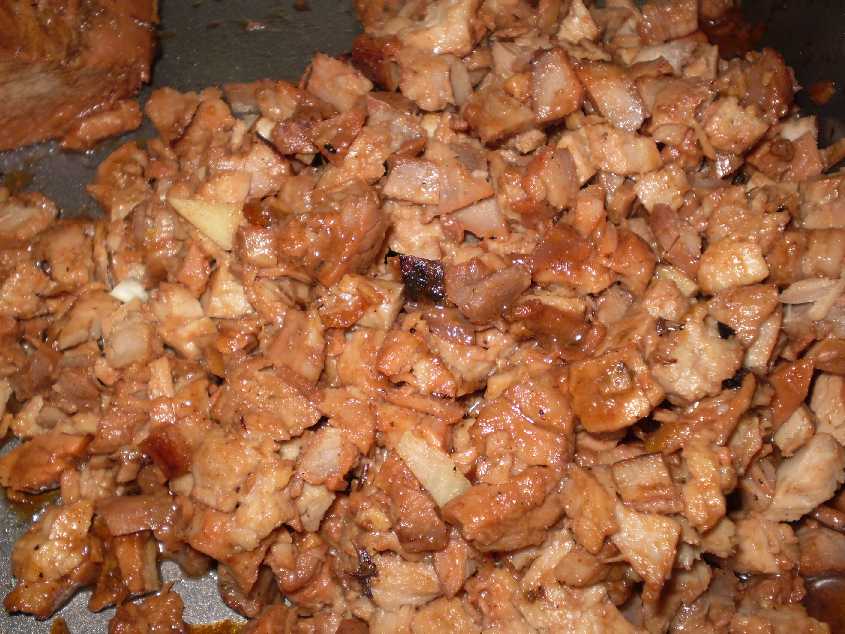 Above: Diced Chinese BBQ Pork tenderloin Roast
Here's some photos that I took while making Chinese Egg Rolls...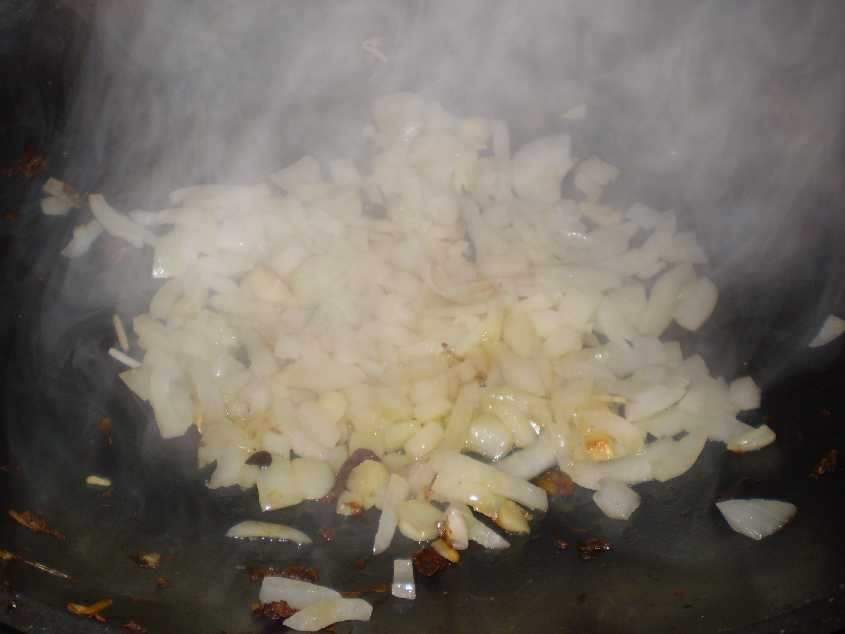 Above: Steam rising from a hot wok, sautéing some delicious yellow onions and garlic.
Below: Fresh ground-pork, onions and celery to the left; fresh shrimp to the right.
Below: Fresh celery and onions to the left; fresh standard cabbage to the right.