Child Euthanasia...
Already Happens Everywhere, Says Dutch Hospital
CNSNews | December 15, 2004 | By Eva Cahen
More: Dutch hospital kills babies & France allows "passive" euthanasia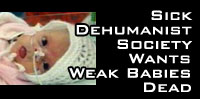 PARIS – The disclosure by a Dutch hospital that it has carried out euthanasia on terminally ill newborn babies has shocked pro-life groups, but the institution claims it is merely trying to bring into the open a practice already happening around the world.
Groningen Academic Hospital is asking the Dutch government to approve guidelines legalizing euthanasia on newborns described as enduring "unbearable suffering" and with "no hope of a future."
The hospital has admitted doing so in the case of three babies last year.
In a statement issued Friday, Groningen pediatrics head Dr. A. Verhagen said that "worldwide, the U.S. included, many deaths among newborns are based on end-of-life decisions, after physicians reached the conclusion that there was no quality of life."
The hospital said it had the support of the Netherlands' eight teaching hospitals in asking the government to legalize child euthanasia.
It said studies had shown that pediatricians were in favor of intentionally ending the life of a newborn who is suffering greatly and terminally ill.
The Netherlands three years ago became the first country in the world to legalize euthanasia . Doctors can lawfully end a life only at the patient's own request.
A health ministry official said the government was working on guidelines for child euthanasia and expected to present a bill to parliament early next year.
"Right now, if a doctor puts an end to the life of a very ill newborn, even at the request of the parents, he can be prosecuted," said spokesman Richard Lancee.

'Slippery Slope'
Cry for Life, a Dutch pro-life group, is strongly opposed to the move. It says that any attempt to widen the euthanasia law is very dangerous, in that it will give society the right to decide cases in which it can legally kill.
"It's another step on the slippery slope of Holland's euthanasia and abortion programs," said the group's chairman, Bert Dorenbos.
In what it calls the Groningen Protocol, the hospital said it was asking for five criteria for making a decision on ending a child's life.
The child must be suffering severely; there must be no possible cure or relief through medical treatment or surgery; parents must consent; independent doctors must give a second opinion; and the ending of life must be "meticulously carried out."
"It is in the interest of newborns who have to endure unbearable suffering that we draw up a nationwide protocol that allows each pediatrician to treat this delicate question with due care, knowing that he followed the criteria," Verhagen said.
Dorenbos said there was little chance of wide public opposition to the proposed guidelines because the hospital was stressing only the question of alleviating pain in suffering babies.

'Intention Is to Kill These Babies'
"People are confused because the doctors talk about mercy killing, but the truth is that their intention is to kill these babies," Dorenbos said.
Dorenbos argued that the Dutch euthanasia laws served primarily to protect doctors from prosecution.
"The law does not have any objective measure of what illness is, what a patient is, what the patient's rights are," Dorenbos said. "It only talks about a doctor's rights, and those are focused on how to protect the doctor from prosecution. This law has no borders to measure what is right or wrong."
Officials said that around 10-15 cases of child euthanasia occurred in the Netherlands each year and estimated that the number could reach 600 worldwide.
The Groningen hospital said it had informed prosecutors about its own three cases of child euthanasia, and no legal action followed.

'The Feeling They Have Killed'
Some advocates of euthanasia would also like to see the legalizing of euthanasia for patients who are unable to decide for themselves, such as those who are severely mentally handicapped or very elderly, although government officials said that was unlikely to happen.
Dorenbos said it was not up to society to decide when life should be ended.
"Even when a child will die in two or three weeks, it's still very important that it should be in a normal natural way, so that the parents can mourn and never have the feeling that they have killed their handicapped baby who needed a lot of help," Dorenbos said.
---
Sick Dehumanist Society Wants Weak Babies Dead!
She sees, hears, smiles and enjoys being cuddled: Doctors want to stop helping her breathe
Infowars.com | March 14, 2005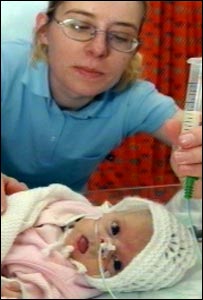 Look into the eyes of this baby human and wrap your mind around the fact that doctors are trying to make it so that she will not be resuscitated if her condition worsens.
They want to refuse her resuscitation despite her parent's pleas for their child.
Charlotte Church has a family who loves her and her life is valuable.
Lucky for her, she wasn't born in the Netherlands, where pediatricians are openly murdering newborns at their discretion.
We are living is a sick, dehumanist society where the value of human life is disregarded and disrespected. Remember that these activities of denial of care (or, in the case of Terri Schiavo, for example, the murder by dehydration) are inspired by underlying dehumanist philosophies like that of "bioethicist" Peter Singer who wrote, "Since neither a newborn infant nor a fish is a person, the wrongness of killing such beings is not as great as the wrongness of killing a person."
'Right-to-life' baby 'improving'
Putting a gravely-ill baby on a ventilator if her condition gets worse would not be in her best interests, the High Court was told on Monday.
A pediatrician said 17-month-old Charlotte Wyatt's condition had improved since a ruling in October that she should not be resuscitated.
But the doctor said ventilation would still not be the right action to take.
Darren and Debbie Wyatt, of Portsmouth, Hampshire, are challenging the previous ruling that she should not be saved.
Back in October, doctors won the legal right not to resuscitate Charlotte after arguing that she was brain-damaged and "had no feelings other than continuing pain".
Charlotte was born three months premature at St Mary's Hospital in Portsmouth in October 2003, with serious brain, lung and kidney damage.
Now the High Court, sitting in Cardiff, is hearing evidence from experts saying she can now see, hear, smile and enjoy being cuddled.
RELATED:
But when asked about putting Charlotte on ventilation, the pediatrician, referred to in court as Dr H, said: "I feel that it wouldn't be in her best interests - with the severity of her chronic lung disease, an acute respiratory infection is what would be fatal to her. To ventilate would only postpone it.
"I cannot really envisage a situation where it would be in her interests."
'Dramatic change'
She admitted Charlotte's condition had improved since the New Year.
"Her general condition improved, she was more settled, spending more time awake but not in distress, and not requiring as much sedation.
"She does make facial movements but I have never seen her smile, and I have held her, and talked to her and engaged with her but I've never seen her smile."
David Wolfe, representing Charlotte's parents Darren and Debbie, put to the doctor that it was "quite a dramatic change" from the situation described back in October.
Dr H replied: "Yes. Really the only factor is that she is no longer in distress all the time and needing sedation."
The case, being heard by Mr. Justice Hedley, is expected to last two days.
END
---
Terri Schiavo — Tortured to Death!