Some Golden Daybreak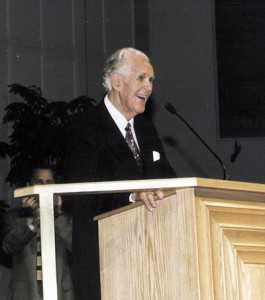 by Pastor Lee Roberson, D.D. (1909-2007)
(Loyal Pastor of Highland Park Baptist Church, Chattanooga, Tennessee for over 40 years)
Table Of Contents
---
Preface

All of these sermons, with the exception of the last two, were preached in the midweek prayer service of the Highland Park Baptist Church. I make no claim for original thought in these messages, but desire to present the plain Word of God to the hearts of everyday people. It will be noted that some truths are repeated over and over again for the sake of emphasis.

In the more than fourteen years that I have been the pastor of the Highland Park Baptist Church I have preached repeatedly the second coming of Christ. God has blessed the giving of this truth to our people. Literally thousands have been brought to the Lord Jesus Christ.

It is my prayer that many will read these simple messages and begin to live fully and eagerly, "Looking for that blessed hope, and the glorious appearing of the great God and our Saviour Jesus Christ."

"Even so, come, Lord Jesus"!

LEE ROBERSON, 1957

This book is dedicated to the memory of Joy Roberson, who brightened our home
for nine happy weeks and now brightens Heaven by her presence there.
---
Life Changing Sermons:
Do you know for sure that if you died today you would go to Heaven? You can know!
Click Here to find out how to be saved!