Today's Devil Fighters!
"The world will go to Hell unless somebody is authoritative!"
—Pastor Jack Hyles, "I Shall Not Be Moved"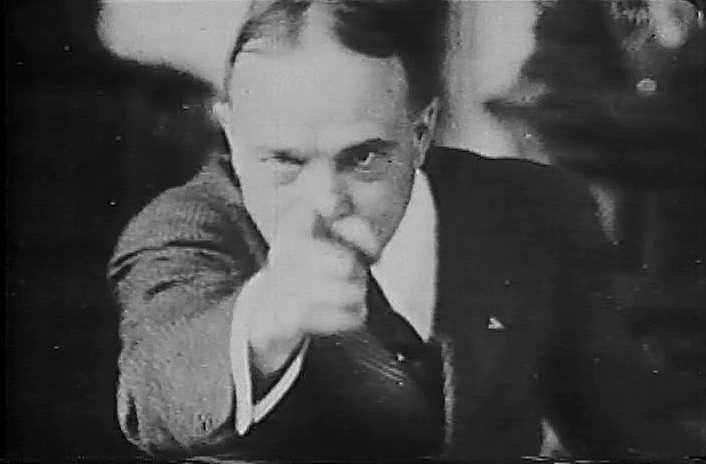 Evangelist Billy Sunday
(1862-1935)
"...little bunch of pantywaist, mama-called, papa-fed, seminary-bred, preachers running around the country, can't preach their way out of a wet paper-sack, that haven't got any courage at all. ... You sorry rascal you!" —Pastor Jack Hyles, a wonderful quote from the MP3 sermon, "Woe To The Land Whose King Is A Child!"

"But hath in due times manifested his word through preaching, which is committed
unto me according to the commandment of God our Saviour." —Titus 1:3
| | | |
| --- | --- | --- |
| | | Note: You likely already have a media player to hear music and sermons on your computer; but if not, here are links to various free media players. |
"...Speaking the truth in love..." —Ephesians 4:15
"I'd rather have a fellow that's got wild fire than no fire!"
—Dr. Jack Hyles, quote from the timeless MP3 sermon titled, IT CAN BE DONE ANYWHERE!
---
Central Baptist BR Church
(life-changing sermons by Pastor Allen Domelle)
---
Sermons That Change Lives
There's nothing in the world comparable to Bible preaching. God has chosen the foolishness of preaching to save those who believe on His Son. No not just any preaching—Gospel preaching; the preaching of the cross; preaching that convicts of sin, righteousness and judgment to come; preaching all the counsel of God. 2nd Timothy 4:2, "Preach the word; be instant in season, out of season; reprove, rebuke, exhort with all longsuffering and doctrine." The prayer of this preacher is that Jesus Christ will be honored, His name extolled, fires of holy love for Him be kindled and souls will be saved! May every hearer's delight be to do God's will.
Too many people let the failures of yesterday, and the fear of tomorrow, rob them of the joy of serving God today!
NAME OF SPEAKERS and MESSAGES

FILE NAME

= Listen Live

= Download

NATHAN BEMIS (pastor)

Bible Baptist Church, Kalispell, MT USA

God's Five Workers
Endure Hardness
Brotherly Love
Stewardship

KEN BLUE (pastor)

Open Door Baptist Church, Lynnwood, WA USA

The Sound of Voices

blu1.ra

ROY BRANSON, JR.

Landmark Baptist Church - Bristol, TN USA

The End of the World

bra1.ra

JOHNNY CAMPBELL (evangelist)

East Point, FL USA

My Testimony
Dove Wings
Who Then Can Be Saved?
Let's Run This Man Out of Town
How To Die Satisfied
How To Be a Hero
The World's Meanest Mama
Peter Rabbit?
That's Him
I Voted For Jesus
You Got What You Wanted... But

cam1.ra
cam2.ra
cam3.ra
JTB_OuttaTown.ra
JTB_HowToDieSatisfied.ra
JTB_Hero.ra
JTB_Mama.ra
JTB_PeterRabbit.ra
JTB_ThatsHim.ra
JTB_VotedJesus.ra
YouGotWhat.ra

JAMIE COLEY (pastor)

Blessed Hope Baptist Church, Ft. Mill, SC USA

Sucker!

col1.ra

ED DEVRIES (evangelist)

Waller, TX USA

Scientific Proofs of Divine Inspiration
The Bible: A Book From God
The KJB: A Perfect Preservation
Ye That Are Spiritual, Restore Such An One
Do You Really Believe In Hell?

DANNY FARLEY (pastor)

Shady Acres Baptist Church - Houston, TX USA

Jesus of Nazareth, a Man

far1.ra

SAMUEL L. GIPP (evangelist)

A Friend to Churches Ministry

Mistakes in the Bible
Why Christians Shouldn't Celebrate Earth Day
The World, the Flesh, and the Devil
A Christian's Guide to Worrying
What I've Learned About Men From the Bible

WILLIAM P. GRADY (evangelist)

Knoxville, TN USA

Final Authority Book (pp. 1-36)
Final Authority Book (pp. 36-75)
Final Authority Book (pp. 75-114)
Final Authority Book (pp. 114-156)
Final Authority Book (pp. 156-197)
Final Authority Book (pp. 197-237)
Final Authority Book (pp. 237-279)
Final Authority Book (pp. 279-321)
Why I Believe the King James Bible?
My Personal Testimony
How Fathers Can Protect Their Children

grw1.ra
grw2.ra
grw3.ra
grw4.ra
grw5.ra
grw6.ra
grw7.ra
grw8.ra
grw10.ra
grw11.ra
grw12.ra

TIM GREEN (evangelist)

Milford, OH USA

Possibilities
green1.ra

JOHN HAVEMAN (pastor)

Open Door Baptist Church - Missoula, MT USA

PAUL HEATON (pastor)

Bible Baptist Church - Lupton, MI USA

When the Preacher Couldn't Help

hea1.ra

AL HUGHES (pastor)

Bible Baptist Church - Port Orchard, WA USA

MAZE JACKSON (evangelist now in glory)

Old Fashioned Camp Meeting Web Page

HARLEY KECK (pastor)

First Bible Baptist Church - Green Bay, WI USA

How to Win Your Husband to Christ

kec1.ra

BILLY KELLY (evangelist)

Old Fashioned Camp Meeting Web Page

The Best is Yet to Come

kel1.ra

JAMES KNOX (pastor)

Bible Baptist Church - DeLand, FL USA

The Koran and the Word of God (Part 1)
The Koran and the Word of God (Part 2)
Why We Stand on the KJB (Part 1)
Why We Stand on the KJB (Part 2)
Adoniram Judson (biography)
Charles Finney (biography)

R. G. LEE (retired Baptist pastor)

Payday Someday
lee1.ra

S. M. LOCKRIDGE (retired Baptist pastor)

San Diego, CA USA

MYSTERY PREACHER

Old Fashioned Camp Meeting Web Page

The Pearl of Great Price

mys1.ra

J. FRANK NORRIS (Baptist pastor now in glory)

Ft. Forth, TX USA

We Shall Not All Sleep
The Remission of Sins
The Book of Revelation
The Eternal Christmas

Michael O'Neal (pastor)

Gospel Light Baptist Church - Albany, GA USA

I Have No Intention of Changing
oneal1.ra

DAN PARTON (pastor)

Timberline Baptist Church - Manitou Springs, CO USA

The God of All Comfort

par1.ra

MIKE PAULSON (pastor)

Touchet Baptist Church - Touchet, WA USA

Music - The Big Picture

pau1.ra

DAVID RIEKE (pastor)

Evangelicalism

rie1.ra

C. L. ROACH (evangelist now in glory)

Powder Springs, GA USA