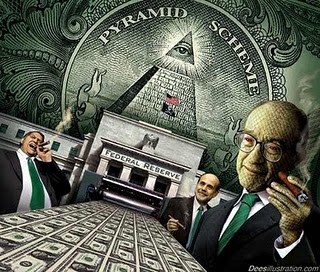 Wealth is never destroyed, it is merely transferred.
Control the Money, Control the World

The powers of financial capitalism had a far-reaching plan, nothing less than to create a world system of financial control in private hands able to dominate the political system of each country and the economy of the world as a whole. Their secret is that they have annexed from governments, monarchies, and republics the power to create the world's money.

International Bankers have Stolen the Power from the Worlds' Sovereign Nations to Create Money

The system of privately owned banks beginning in England in 1694 and now dominating the United States and every developed nation have financed most of the world's wars in the last three hundred years, greatly enabled and extended them by financing both sides, and driven these countries into massive debt, essentially enslaving governments and populations to international banking institutions

We cannot even begin to understand how great concentrations of economic and political power have developed in our country, why our farmers are being driven out of the agricultural industry in droves, how the advocates of world government are aiming to subjugate the nutritional supplement industry to the much more concentrated pharmaceutical industry, or why we are approaching a massive financial crisis that threatens to vaporize the average person's wealth while enriching only the very tip-top figures in the banking industry, unless we understand what real money is and what kind of an unthinkable crime and complete conspiracy the formation of our central bank has been.
READ MORE