The Damnable World of Oprah Winfrey!
By David J. Stewart | December 2008

"Beloved, believe not every spirit, but try the spirits whether they are of God: because many false prophets are gone out into the world." —1st John 4:1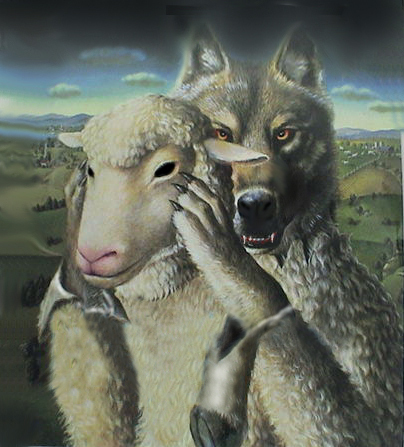 Talk show host Oprah Winfrey is an imposter! Although she professes to be a Christian, she condemns herself by her own words, clearly revealing that she is NOT a Biblical Christian in any sense. This is how Satan operates—through deception. Oprah is very DANGEROUS!
Tragically, Oprah is leading millions of people astray from the truth with her false religion, and make no mistake, it is a religious show. Oprah speaks of prayer, spirituality, finding the light, spiritual awareness, faith and twists the Scriptures to support her New Age doctrines of devils. Her religion sounds enough like Christianity that people are buying into it; but it's a road to Hell. Oprah can simply mention a book and it instantly becomes a New York Times Best Seller. That is power! Oprah never mentions Jesus Christ, just God and it's not the God of the Bible.
The following is taken directly from a transcript of Oprah's "New Earth" online class with New Age guru Eckhart Tolle:
OPRAH WINFREY (HOST): And you know, it's been a journey to get to the place where I understand, as I said on the pre-show here, that what I believe is that Jesus came to show us Christ consciousness.
OPRAH WINFREY (HOST): That Jesus came to show us the way of the heart and that what Jesus was saying that to show us the higher consciousness that we're all talking about here. Jesus came to say, "Look I'm going to live in the body, in the human body and I'm going to show you how it's done." These are some principles and some laws that you can use to live by to know that way. And when I started to recognize that, that Jesus didn't come in my belief, even as a Christian, I don't believe that Jesus came to start Christianity…
OPRAH WINFREY (HOST): You have a rich array of gems from which to draw illumination. The world's religious traditional, mythology, psychology, healing methods, scientific wisdom, your own experience and that you can begin to string a necklace all your own… And so it's really a question of… this material [which] strikes a chord within you.
OPRAH WINFREY (HOST): Something in you opens up and wants, you know, feels alive and is awakened to that. And yet there is the ideology that says what to you…
OPRAH WINFREY (HOST): Well, I am a Christian who believes that there are certainly many more paths to God other than Christianity.
OPRAH WINFREY (HOST): I'm a free-thinking Christian who believes that, who believes in my way, but I don't believe that it's the only way, with six billion people here on the planet.

SOURCE: A New Earth Online Class, Oprah.com, 11,12, 14 transcript on file
Clearly, Oprah DOESN'T recognize Jesus as the Christ Who came to redeem us from OUR SINS. Sadly, Oprah is unsaved and bound for the Lake of Fire. According to Oprah's flawed thinking, a person doesn't need to become a Christian to go to Heaven. She is a liar and an antichrist according to 1st John 2:22 because she denies that Jesus is the Savior of mankind. Oprah thinks unbelievers can find some OTHER WAY to Heaven; but John 10:1,9 plainly warns... "
Verily, verily, I say unto you, He that entereth not by the door into the sheepfold, but climbeth up some other way, the same is a thief and a robber... I am the door: by me if any man enter in, he shall be saved, and shall go in and out, and find pasture.
" Oprah is hellbound in her sin of unbelief. John 10:1 calls Oprah
a thief and a robber
.
Oprah worships ANOTHER JESUS... "For if he that cometh preacheth another Jesus, whom we have not preached, or if ye receive another spirit, which ye have not received, or another gospel, which ye have not accepted, ye might well bear with him" (2nd Corinthians 11:4). Oprah is of the Devil.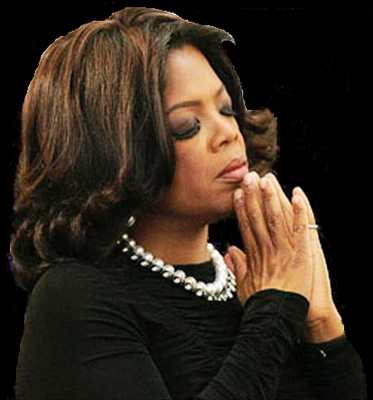 The Bible clearly tells us that Christ Jesus of Nazareth is God Almighty in human flesh (1st Timothy 3:16), i.e., the Godhead incarnate (Colossians 2:9) and the totally unique—one of a kind—Son of God...
"In the beginning was the Word, and the Word was with God, and the Word was God… And the Word was made flesh, and dwelt among us, (and we beheld his glory, the glory as of the only begotten of the Father,) full of grace and truth… No man hath seen God at any time; the only begotten Son, which is in the bosom of the Father, he hath declared him… Jesus said to him, Jesus saith unto him, I am the way, the truth, and the life: no man cometh unto the Father, but by me... For in him dwelleth all the fulness of the Godhead bodily." (John 1:1,14,18; 14:6, Colossians 2:9, King James Bible).
Oprah has sold her soul to the Devil, promoting a demonic New Age religion which has no need for Jesus Christ. She is leading people down a path of destruction... "
In flaming fire taking vengeance on them that know not God, and that obey not the gospel of our Lord Jesus Christ: Who shall be punished with everlasting destruction from the presence of the Lord, and from the glory of his power
" (2nd Thessalonians 1:8,9). Please don't be a fool by following a fool... Oprah is an unbelieving fool.
Oprah Promotes New Age Heretic, Marianne Williamson!
Oprah promotes numerous New Age authors, including Marianne Williamson, a New Age minister and author. Williamson is the author of "A Return to Love," in which she describes how A Course In Miracles (a demonically inspired book) changed her life.
In a 1992 article concerning Williamson, the
Los Angeles Times
wrote:
This self-described "Jewish unwed mother" has become the foremost interpreter of "A Course in Miracles," the 1,200-page tome she first noticed on a friend's coffee table about 15 years ago, not long after it was published. "Students" of the course, which has sold 750,000 copies, are told that it was dictated by Jesus Christ himself over a seven-year period to an emotionally tortured psychologist named Helen Schucman.
- Source: The Power, the Glory, the Glitz; Marianne Williamson, an ex-nightclub singer, has attracted many in Hollywood with her blend of new-time religion and self-help–and alienated more than a few, Los Angeles Times, Feb. 16, 1992
Here's a few demonic teachings from the book, A COURSE IN MIRACLES, that Williamson claims changed her life...
"There is no sin. . . " pg. 9
A "slain Christ has no meaning." pg. 10
"The journey to the cross should be the last 'useless journey.' " pg. 11
"Do not make the pathetic error of 'clinging to the old rugged cross.'" pg. 12
"The Name of Jesus Christ as such is but a symbol… It is a symbol that is safely used as a replacement for the many names of all the gods to which you pray." pg. 13
"God is in everything I see."14
"The recognition of God is the recognition of yourself." pg. 15
"The oneness of the Creator and the creation is your wholeness, your sanity and your limitless power." pg. 16
"The Atonement is the final lesson he [man] need learn, for it teaches him that, never having sinned, he has no need of salvation." pg. 17
That is blasphemy! According to her website, "Williamson is an internationally acclaimed spiritual teacher." Yeah, she's a spiritual teacher going around teaching people that they're not sinners and don't need salvation. The Bible calls her a liar and an antichrist (1st John 2:22). Williamson is an unsaved Modernist who speaks of spiritual matters; while denying the sinfulness of mankind and the reality of the gift of eternal life through Jesus Christ our Lord (Romans 6:23). How dare anyone call clinging to the old rugged cross a "pathetic error." There is NO salvation apart from the name of Jesus Christ...
"Be it known unto you all, and to all the people of Israel, that by the name of Jesus Christ of Nazareth, whom ye crucified, whom God raised from the dead, even by him doth this man stand here before you whole. This is the stone which was set at nought of you builders, which is become the head of the corner. Neither is there salvation in any other: for there is none other name under heaven given among men, whereby we must be saved" (Acts 4:10-12).

Beware of Marianne Williamson!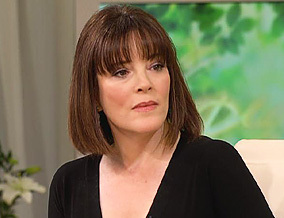 Marianne Williamson is an unsaved Modernist, a false prophet, who denies Jesus Christ (as does Oprah Winfrey). She also denies that mankind is sinful. Oprah is extremely dangerous because she introduces her viewers to Christ-rejecting, heathen authors who deny the fundamental teachings of God's Word. In sharp contrast to New Age philosophy, the Scriptures condemn ALL MANKIND as sinners. Romans 3:23 says: "For all have sinned, and come short of the glory of God."
Williamson's bible is A Course In Miracles, which teaches on pg. 17 that man has never sinned and thus needs no salvation nor Savior. This is the doctrinal trash which Oprah promotes. Whereas the Scriptures condemn mankind as being SINFUL (Romans 3:10) and GUILTY BEFORE GOD (Romans 3:19); Oprah and her New Age heretics teach that people only make mistakes and never sin, so they don't need to be saved. Oprah is blinded by her own wickedness and has chosen the path of darkness. Please don't follow Marianne Williamson into hellfire.
Ms. Williamson and Oprah are giving people false hope. They are both of the Devil. There is only one way to God the father and that is through a personal relationship with God the Son, i.e., the Lord Jesus Christ... "Wherefore the law was our schoolmaster to bring us unto Christ, that we might be justified by faith... For ye are all the children of God by faith in Christ Jesus" (Galatians 3:24,26). It's Jesus or Hell.
Jesus Christ's name is not a symbol, He is the way to salvation... "To him give all the prophets witness, that through his name whosoever believeth in him shall receive remission of sins" (Acts 10:43).
Without the "CROSS" there would be no payment for OUR SINS. Jesus sacrificed His literal precious blood to pay for OUR SINS... "Forasmuch as ye know that ye were not redeemed with corruptible things, as silver and gold, from your vain conversation received by tradition from your fathers; But with the precious blood of Christ, as of a lamb without blemish and without spot." Amen!
Oprah is more dangerous than Satan worshipers because she comes across as such a good person and claims to be a Christian; but she is a phony. The Devil is a beautiful liar. The New Age gospel of Oprah which ignores man's sin leads to eternal destruction. There can be no salvation without repentance, which requires that mankind become GUILTY before God, condemned by God's holy Law. God will save anyone who comes as a GUILTY sinner, believing upon the Savior Jesus Christ for forgiveness. Please read, Who's the Biggest Sinner? and You Need HIS RIGHTEOUSNESS!

Oprah's Ministry of Doom
Oprah Winfrey has actually referred to her daytime talkshow as her "ministry." I guess that makes her a sinister minister. It is not unusual for Oprah to talk of God and spirituality; but Oprah has rejected the God of the Bible. Strangely enough, there are some striking similarities between false prophets Joel Osteen and Oprah Winfrey...
Joel: Most watched TV evangelist
Oprah: Most watched TV talk show host

Joel: On first name basis with audience
Oprah: On first name basis with audience

Joel: Show presented like an infomercial
Oprah: Show presented like a church service

Joel: Like watching Dr. Phil
Oprah: Created Dr. Phil

Joel: Your Best Life Now (book)
Oprah: "Live your best life" (tagline)

Joel: Practical spirituality leading to happiness
Oprah: Practical spirituality leading to happiness
Joel and Oprah are faith brands, products that sell spirituality using sophisticated marketing and branding tools. Specific among those tools are: creating a name and recognizable logo and creating a mythology around the brand. Here, too, Joel and Oprah are similar in that they present a rags-to-riches story that suggests if you follow what they present you too can be like Joel or Oprah. 1
Modern psychology ignores the reality of sin; therefore, it is inherently flawed through and through. Oprah's New Age guests are all unsaved heretics who don't believe the Scriptures concerning sin, judgment or God's plan of redemption by way of the sacrifice of Jesus Christ.
Here is a powerful quote from the mighty man of God, and Bible teacher, M.R. DeHaan, M.D. ...
"Has it ever struck you, as it has me, that the world has tried desperately hard to rid itself of even the very mention of the word sin? It has almost entirely disappeared from the world's vocabulary. We can pick up our newspaper or magazine and read all the accounts of violence and atrocity and murder and dishonesty, but seldom are these things called "sin." Writers talk about crime and violence and death and murder and immorality, but the word SIN is carefully avoided.

Now all of this becomes very significant, for we believe it to be an attempt, consciously or unconsciously, to get rid of the idea of sin. But sin is still sin, and until there is a revival of preaching against sin in all of its awfulness, as a filthy damning rebellion against God, which it is, there cannot be a revival, but the world will continue getting worse and more rotten and more sinful than ever. By the grace of God, we, therefore, shall lift our voice against sin, not merely as a human weakness, not merely as the mistakes of a race trying to climb upward by evolutionary process, but as that vicious, selfish, filthy thing which lies at the basis and root of all man's troubles and trials, and which is a rebellion against a thrice-holy God, which must result in the punishment of the sinner in an eternal Hell, unless it is taken care of by the blood atonement of the Son of God. That is why we preach on the subject of the blood, the only God-given remedy for sin."

SOURCE: M.R. DeHaan, M.D.; The Tabernacle, 1955, p. 149 (ISBN: 0-310-23491-3)
That is the message which America's preachers need to preach today. We have become complacent concerning sin. Please read, Wicked Cool. Also, The Nation That Forgot God.
---
Ye Must Be Born Again! | You Need HIS Righteousness!