Make Your Life Count For Eternity
By David J. Stewart | January 2018 | Updated January 2019
Daniel 12:3, "And they that be wise shall shine as the brightness of the
firmament; and they that turn many to righteousness as the stars for ever and ever."
I oftentimes wish other people could see what I see, feel what I feel, and know what I know about eternal truths and the things of God. I have been gloriously saved now (that is, born-again), for 39 years. I was saved as a 13 year old boy. Oh, my friend, there is no joy in this life like knowing that your name is written in Heaven in the Lamb's Book of Life (Luke 10:20), and that you are living for eternal treasures (Matthew 6:19-20), and that there are going to be souls in Heaven because you shared the Gospel with them (Luke 8:15).

This life is so short, serve God while you can! It is true that life is short, Hell is hot, and eternity is a long time! If we don't witness the Gospel to others, people WILL go to Hell, when we could have made all the difference! 1st Corinthians 9:16, "For though I preach the gospel, I have nothing to glory of: for necessity is laid upon me; yea, woe is unto me, if I preach not the gospel!" I encourage you dear reader to become a soulwinner. It is a worthwhile investment for eternity!

No doubt, we all have blood on our hands, for people that we didn't witness to, but should have. Have you ever felt guilty as a Christian for not witnessing to someone? I sure have, oftentimes! But I have also witnessed to many people because of that horrible guilty feeling, so it is necessary and a good thing, I think. One thing that I have started doing, to witness to people in my daily life, is to hand them Michael P. Bowen's excellent book titled, "I Never Knew You." The book costs about $10, but what is a soul worth? Giving someone a book has a much more profound impact than if you merely hand them a piece of paper. I tell them, "I bought this for you, to share my Christian faith with you. It is a helpful book that taught me many things, and I thought you'd like to read it too. I won't ask you what you think about it later, I just wanted you to have this. God bless!" I never ask for their opinion of the book, it doesn't matter, it is between them and God. I have done my part to witness to them. If they have questions, they will ask. If I know the person well, I may invite them to ask questions if they have any, but I always assure them that I won't ask for a book review.

I cannot control what other people do, but I can control myself. I am far from perfect, that's for sure, but I am serving the Lord Jesus Christ! I have made many mistakes in my life, but I have not buried what God has entrusted to me in the sand (Matthew 25:14-30). God is doing a great work through me, a nobody, by His wondrous grace, because I am yielded to Him. God doesn't need my talents, money, skills or knowledge; but He desires my heart and obedience, and trust and dependence upon His strength, power and wisdom. I am only as effective in my labors for Christ, as I am weak and dependant upon Him through prayer. 2nd Corinthians 12:9-10, "And he said unto me, My grace is sufficient for thee: for my strength is made perfect in weakness. Most gladly therefore will I rather glory in my infirmities, that the power of Christ may rest upon me. Therefore I take pleasure in infirmities, in reproaches, in necessities, in persecutions, in distresses for Christ's sake: for when I am weak, then am I strong." God is using a knucklehead like me, a redeemed sinner who is flawed, frail and mortal in every way.

Lack of prayer evidences sinful pride, showing that we think we can do it alone without God. Oh, no my friend, we are NOTHING without our great God! We are but clay, a clump of dirt from the earth, composed of the food we eat. Who am I that a King should bleed and die for? Oh, what a glorious Savior, Jesus is mine!!!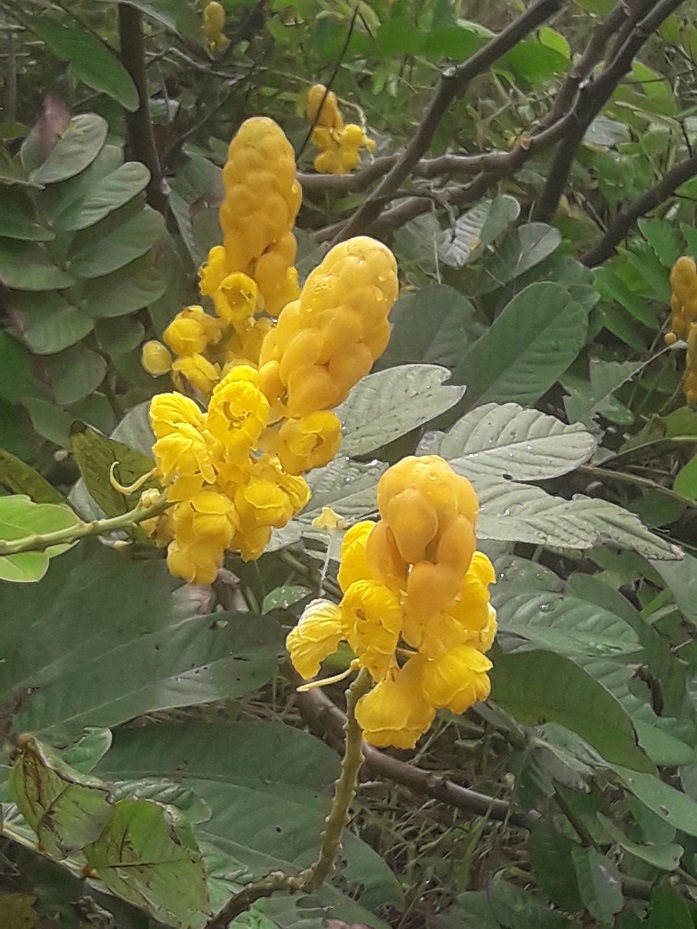 I took this amazing photo on January 25th, 2019 from the window of my car. Aren't they beautiful flowers that God made!
The Greatest Things in Life Aren't Things

I don't know about you, but I want my life to count for God. Life is so much more than food and drink, going to work, paying bills, and having fun! God intended for life to be much more than taxes, hospital beds and graveyards! There is a wonderful, omnipotent (all-powerful), loving God up in Heaven, Who created you and wants to be your best friend. In fact, God loves you and me so much, that He made it so when we trust Jesus Christ as our personal Savior, God comes to live inside of us (1st Corinthians 3:16-17). That is so precious and beautiful! John 14:23, "Jesus answered and said unto him, If a man love me, he will keep my words: and my Father will love him, and we will come unto him, and make our abode with him." Bless God, if you are a born-again child of God, the Godhead (Trinity) abides (dwells) inside of your body!!! I love that! God wanted to be so close to me as His child, that He chose to become a part of my very being, abiding in my spirit, soul and body. The Bible calls every believer's body "the temple" of the Holy Spirit. 1st Corinthians 3:17b, "for the temple of God is holy, which temple ye are." Amen! Here is a wonderful MP3 sermon by Pastor Jack Hyles (1926-2001) titled, "The Real Temple," which is precious.

Oh, my friend, you can have the joy that I have, knowing that your name is written down in the Lamb's Book of Life in Heaven. You can revel in the "unspeakable joy" of the Scriptures. 1st Peter 1:7-9, "That the trial of your faith, being much more precious than of gold that perisheth, though it be tried with fire, might be found unto praise and honour and glory at the appearing of Jesus Christ: Whom having not seen, ye love; in whom, though now ye see him not, yet believing, ye rejoice with joy unspeakable and full of glory: Receiving the end of your faith, even the salvation of your souls." I cannot even express in words the "JOY UNSPEAKABLE" that I continually feel in my soul, wallowing in the precious promises of God in the King James Bible! I have an "Unspeakable, Unsearchable And Unchangeable Salvation" (a beautiful MP3 sermon by Dr. Jack Hyles). If you don't know what I am talking about, it is only because you are either not saved, or it's because you are saved but haven't learned the wonderful eternal truths of the Scriptures (or have forgotten them).

Colossians 3:1-3, "If ye then be risen with Christ, seek those things which are above, where Christ sitteth on the right hand of God. Set your affection on things above, not on things on the earth. For ye are dead, and your life is hid with Christ in God."

This earthly life will soon be over (I can't wait). As a Christian I do not fear dying, I look forward to it! I want to be with my blessed Savior, Jesus! There were over one billion people a century ago, many of whom were very handsome and beautiful in appearance, alive and filled with the vibrancy of life, who are ALL DEAD today! No one can escape death! 1st John 2:17, "And the world passeth away, and the lust thereof: but he that doeth the will of God abideth for ever." What is the will of God? I am glad you asked. John 6:40, "And this is the will of him that sent me, that every one which seeth the Son, and believeth on him, may have everlasting life: and I will raise him up at the last day." Amen! The Scriptures interpret themselves! The will of God is to "BELIEVE" on the Lord Jesus Christ. We are saved by BELIEVING the Gospel (i.e., Good News) of Jesus Christ crucified, buried and risen the third day (1st Corinthians 15:1-6).
The Road To Big Success! (MP3 by Dr. Hyles; Little things are just as important as big things!)
I would encourage you my friend, to step back in your soul and view your temporary life from the perspective of the human civilization. You and I are a mere blip in time, in the 6,000 year history of the human race. Consider all the famous people, those who were multi-billionaires, with all their pleasures and earthly luxuries, who are now all in eternity. Actress Marilyn Monroe was an extremely beautiful woman, who lived a life of fun, sexual pleasures and sinful shame, being murdered at only age 36. Where is she now? I do not condemn her, for we are all woeful sinners in the sight of our holy God. My point is that her short pleasurable and fun-filled life was over before she knew it, and so will mine and yours be!!! Are you ready to meet your Maker? I am, having my sins washed away by the precious blood of Jesus (1st Peter 1:18-19), and I am trying to get you ready too my dear friend; hence, this article and my ministry websites. I want you to experience the lasting joy, peace and security that I have through faith in Jesus Christ!!!
"There are lots of preachers who don't know Jesus. They know about him, but they don't know him."
—Billy Sunday, "Critics and Criticism" (chapter 18), from his biography by William T. Ellis titled, "Billy Sunday: The Man And His Message."
The Blind World is Walking in Spiritual Darkness

I feel sad oftentimes that nearly everyone around me is walking in darkness. This heathen world walks in spiritual darkness. We are living in strange times, where Satan has turned men into effeminate wimps and women into masculine bullies. This is against God's natural order for the family. Homosexuality is a perversion of God's divine order, which confuses youth and destroys happiness. John 8:12, "Then spake Jesus again unto them, saying, I am the light of the world: he that followeth me shall not walk in darkness, but shall have the light of life." Acts 26:18, "To open their eyes, and to turn them from darkness to light, and from the power of Satan unto God, that they may receive forgiveness of sins, and inheritance among them which are sanctified by faith that is in me." The first step to having the unspeakable joy that I'm am talking about is to receive Jesus Christ as your personal Savior. And then, no believer can ever truly be happy who is living in sin, not being productive for God. The Lord didn't save us to BE GOOD, but to DO GOOD! Our churches are filled with do-gooder deadbeats, who are sitting on the premises instead of standing on the promises...

"We've got churches, lots of them. We've got preachers, seminaries, and they are turning out preachers and putting them into little theological molds and keeping them there until they get cold enough to practice preaching." —Evangelist Billy Sunday, "Critics and Criticism" (chapter 18), from his biography by William T. Ellis titled, "Billy Sunday: The Man And His Message."

Today's large religious institutions, like Bob Jones University (BJU) have become preacher's cemeteries!!! The Bible colleges are apostate nowadays, getting into nursing and piloting and have moved away from fundamental Bible-preaching. Show me the Billy Sunday's from BJU! Show me the John the Baptists from Moody Bible Institute! They don't exist! Phooey on today's spiritually dead religious colleges! I loathe the money-making emphasis of so-called "Bible colleges" today. They are arrogant, following the god of money! While the churches are growing smaller, the Bible colleges are growing bigger.
END OF ARTICLE
---
"When someone does something wrong, make it a point to never forget all the things they did right." —Pastor Bob Gray Sr.
You Can Still Do What You Always Could Do
(MP3, Dr. Jack Hyles; A pastor is a position, not a calling. You can forfeit a position, but never your calling to preach!)
Salvation is not doing your best, it is having Christ's best put to your account through receiving Him by faith.

"Christianity is basically, first and foremost, the God of Heaven fellowshipping with His creatures. That's what it's all about. That's what God made you for; God made you to fellowship with Himself. And if you bypass that fellowship—I don't care what church you attend, I don't care what school you attend, I don't care if you're the fastest growing church and the biggest Sunday School in America, I don't care what kind of organization we have—We can have colleges, and high schools, and elementary schools, and junior high schools, and senior citizen's departments, and all the rest of it, juvenile homes, and orphanages, and all the rest of it!—But our church will never rise any stronger, than our personal, individual, fellowship, with the God who made us and gave Himself, that we might be saved. Spend time with God!"

SOURCE: A life-changing quote from Pastor Jack Hyles' 1971 sermon, "So You've Seen Better Days."

It takes two years for a baby to learn to talk, and 70 years to learn to shut up!!!
"So foolish was I, and ignorant..." (Psalm 73:22)
God will not save anyone who is trying to be saved, He will only save those who are trusting to be saved.
"A man doesn't get better to get saved; he gets saved to get better."
—Pastor Curtis Hutson (1934-1995), a quote from the excellent sermon, "Salvation Crystal Clear."
"God has a special rebuke, again and again and again in the Bible,
toward those people who keep their neutrality in the work of God!"
—SOURCE: Pastor Jack Hyles (1926-2001), a quote from the needful and precious MP3 sermon titled: "Where Were You In The Battle?"
Religion is man trying to reach God through human effort, but Christianity is God trying to reach man by the sacrifice of His only begotten Son on the cross.
"You don't have to fall apart just because the world falls apart!"
—an excellent quote by Pastor Ralph "Yankee" Arnold from his awesome MP3 sermon called, "THE CALL TO SUFFER."
It is tragic, but true, that the true New Testament church is being driven underground in America. Faithful believers like me, who expose the Alexandrian counterfeit Bible versions, and expose false prophets like Dr. John MacArthur, and refute the false gospel of Lordship Salvation, are forced out of the churches as troublemakers. It is crazy!!! Churches are so backslidden and apostate, that they don't even realize a person who contends for the faith. It's bizarre, but Christianity is being driven underground. On the face of things in Europe and the United States, they look like Christian nations, there are plenty of churches, but when one digs deeper, when one really IS a Christian, and wishes to make a stand for the Christian faith, one quickly finds apostasy and rejection.

Brother Tom Stegall's book, Must Faith Endure:

However, many today misunderstand this marvelous truth and say in effect, "Yes, Christ can save you, but your faith must keep holding on to Christ in order for you to reach heaven." According to this approach, Christ really doesn't save a person; they save themselves. With this approach, a person is not really saved by faith in Christ, but ultimately by faith in their faith, as they think it is their "faithfulness" to Christ which will ultimately bring them eternal life. The great Bible teacher of the past, Harry Ironside, addressed this very problem as he answered the objection: "But must I not hold on to the end if I would be saved at last?"
The Incompatibility Of False Teaching On Repentance With The Gospel Of Grace
"Repentance don't save you! Calling on the Lord don't save you! You know what saves you? Receiving
what Christ done for you on the cross!" —Pastor Danny Castle, a quote from the needful MP3 sermon, "WHY THERE'S A HELL."
There's two days you should never worry about—yesterday and tomorrow! You can't change them. Fight today's battles today! Worry is the end of faith and faith is the end of worry! The second I start trusting the Lord, I quit worrying; and the second I start worrying, I quit trusting the Lord. Worry is not trusting God. I just feel like, some of you may be just worrying yourself sick, over stuff that you can't change it a bit. You know what you need to do—put it into God's hands! Don't be guilty of the sin that most Christians commit. (awesome quotes from Pastor Danny Castle's helpful sermon titled, "The Sin That Most Christians Commit."

"You say, 'Preacher are you worried about the depression?' No, I'm worried about the prosperity!" —Dr. Jack Hyles; a quote from the classic MP3 sermon, "You Must Go Through Arabia."

"It's time that God's people met with God!" —Dr. Jack Hyles; a quote from, "You Must Go Through Arabia."

"We've got churches, lots of them. We've got preachers, seminaries, and they are turning out preachers and putting them into little theological molds and keeping them there until they get cold enough to practice preaching." —Billy Sunday, "Criticism and Criticism" (chapter 18), from his biography by William T. Ellis titled, "Billy Sunday: The Man And His Message."
---
Precious Christian Testimonies
How Permanent Is Your Salvation?
(an excellent MP3 sermon by Pastor Hank Lindstrom, 1940-2008)
"The mark of the child of God is that he loves everybody!"
(a quote from Pastor Jack Hyles' classic MP3 sermon, "FORGIVENESS")
---
Ye Must Be Born Again! | You Need HIS Righteousness!