DON'T BE CAUGHT DEAD WITHOUT JESUS!
Excerpt taken from the tract "Hell's Truth" by Terry Watkins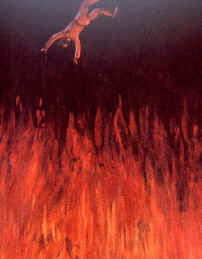 You may have made some terrible mistakes in your life. There may be some things in your life you would give anything to be able to change. But friend, I assure you — if you die without Jesus Christ — it'll be the worst mistake you could possibly make!

Has there ever come a time and a place in your life, when you received Jesus Christ as your personal Savior?

If not, you are on the way to hell!
Don't let anyone convince you that when you die it will be all over! The Bible says in Hebrews 9:27:
"And as it is appointed unto men once to die, but after this THE JUDGMENT." Hebrews 9:27
Revelation 20:15 says:
"And whosoever was not found written in the book of life was cast into the LAKE OF FIRE." Revelation 20:15
If you've never received Jesus Christ as your Savior, bow your head this minute and ask the Lord Jesus Christ to save you. Don't put it off another second!

NOTHING'S WORTH TAKING THE CHANCE!
It's simple to be saved ...
Realize you are a sinner.

"As it is written, There is none righteous, no, not one:" Romans 3:10

"... for there is no difference. For all have sinned, and come short of the glory of God;" Romans 3:23


Realize you CAN NOT save yourself.

"But we are all as an unclean thing, and all our righteousnesses are as filthy rags; ..." Isaiah 64:6

"Not by works of righteousness which we have done, but according to his mercy he saved us, ..." Titus 3:5


Realize that Jesus Christ died on the cross to pay for your sins.

"Who his own self bare our sins in his own body on the tree, ..." 1 Peter 2:24

"... Unto him that loved us, and washed us from our sins in his own blood," Revelation 1:5


Simply by faith receive Jesus Christ as your personal Savior.

"But as many as received him, to them gave he power to become the sons of God, even to them that believe on his name:" John 1:12

" ...Sirs, what must I do to be saved? And they said, Believe on the Lord Jesus Christ, and thou shalt be saved, and thy house."" Acts 16:30,31

"For God so loved the world, that he gave his only begotten Son, that whosoever believeth in him should not perish, but have everlasting life." John 3:16
---
WOULD YOU LIKE TO BE SAVED?

Pray this prayer, and mean it with all your heart.

Lord Jesus, I know that I am a sinner, and unless you save me I am lost forever. I thank you for dying for me at Calvary. I come to you now, Lord the best way I know how, and ask you to save me. I now receive you as my Savior. In Jesus Christ Name, Amen.
"How shall we escape, if we neglect so great salvation;"
Hebrews 2:3
SOURCE

Copyright © 1995 Dial-the-Truth Ministries
---
"In flaming fire taking vengeance on them that know not God, and that obey not the gospel of our Lord Jesus Christ: Who shall be punished with everlasting destruction from the presence of the Lord, and from the glory of his power."
—2nd Thessalonians 1:8,9
---