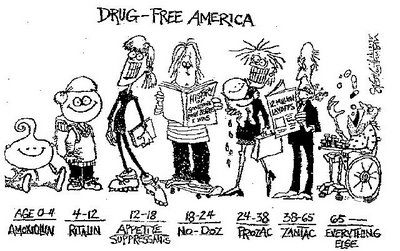 Tens of thousands of children are still being prescribed powerful antidepressants despite guidance that they should not given to patients under 18 because of serious safety concerns.
Campaigners warned that vulnerable teenagers were being treated with a potentially dangerous "chemical cosh" of drugs because of long waiting lists for more suitable therapies such as counselling.
More than 85,000 prescriptions were given to children in 2004 for antidepressants that the regulatory agencies had ruled should only be given to adults.
One in three of all child anti-depressant prescriptions were for drugs on the "banned" list drawn up by the Medicines and Healthcare Products Regulatory Agency (MHRA) in 2003.
The drugs, which include Seroxat and other common antidepressants known as SSRIs (selective serotonin re-uptake inhibitors) raise the risk of emotional distress, self-harm and suicidal thoughts among children.
Sophie Corlett, policy director of the mental health charity Mind, said: "While [these drugs] may be appropriate for a few teenagers, guidelines recommend against their use because the risks generally outweigh the benefits. Doctors are advised to refer children for therapy but the waiting lists are very long."
The MHRA ruled in June 2003 that Seroxat should not be given to people under 18. Six months later it added a range of other antidepressants to the list, saying only Prozac was safe for use in children and even then should be prescribed only as a last resort. But a parliamentary question tabled by the Liberal Democrat MP Paul Burstow found that 85,251 prescriptions for antidepressants were written for children in 2004 for drugs on the MHRA list. They included more than 6,000 prescriptions for Seroxat' more than 27,000 prescriptions were for children under 15. Health experts estimate that more than 40,000 children in Britain are on antidepressants.
Mr. Burstow said: "This level of prescribing... is evidence of the under-investment in child and adolescent mental health services and the chronic shortage of talking therapies."
The National Institute for Clinical and Healthcare Excellence (Nice) issued recommendations last year on how doctors should deal with depression in children. It said children should be given advice on diet and exercise and a three-month course of counselling, with prescription drugs given only as a last resort.
However, the advice from Nice and the MHRA is not binding and allows doctors to use their discretion when prescribing. Many are believed to have continued prescribing antidepressants to children because of the lack of other mental health services. A survey of GPs found that 80 per cent believed they were prescribing SSRIs to too many adults and children.
A Department of Health spokeswoman said not all the prescriptions for under-18s were for the treatment of depression and some were "used for other disorders such as bed-wetting and phobic states". But campaigners say they could still cause withdrawal and other side effects.
'Weaning myself was the most agonising experience'
'Sarah', student, 22
Sarah' was first given antidepressants by her GP at the age of 15. It took seven years to wean herself off the drugs. "I had my GCSEs coming up. A relationship had broken up and I thought the doctor might be able to help with counseling. He just wrote a prescription."
Sarah was prescribed Efexor, an antidepressant which was included on the banned list for children in 2003. She was not warned of the side effects and, despite being only 15, was judged competent to be treated without her parents' knowledge. She said: "The pills did make me feel better but my circumstances had also changed." She repeatedly told her doctor she wanted to stop the pills but he advised her to carry on. Last year she decided to wean herself off them." It was the most agonising experience of my life."
Sarah is now on a low dose of Prozac and says she would never take antidepressants again. "I feel really angry I was put on them in the first place."
Copyright 2006 Independent Newspapers UK Limited
Provided by ProQuest Information and Learning Company. All rights Reserved.
---