<!null end keywords> <!null end keywords>
Unanimity
Notes from a Dwight L. Moody prayer meeting...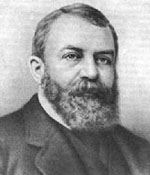 Dwight L. Moody: At a meeting in Glasgow where a man said to him: "I hadn't been at work in the inquiry-room lately, but the work got into me last night, and there is a good deal of difference." So among those ministers who have come up here, in whom the work has entered. We will hear from them, whereas with those who are in the work only - well, we may never hear of them again. He rejoiced at the spirit of unanimity which he noticed during this session of the convention. He declared that he had not seen a Methodist, a Presbyterian, or an Episcopalian - they all seemed to be children of God. Oh, those miserable sectarian walls! May the great God knock them down.
Excerpted from Great Joy by Dwight L. Moody, New York, 1877
---

Dwight L. Moody / Billy Sunday

---
More Life Changing Sermons:
Do you know for sure that if you died today you would go to Heaven? You can know!

"I am an old-fashioned preacher of the old-time religion, that has warmed this cold world's heart for two thousand years." -Billy SUNDAY.